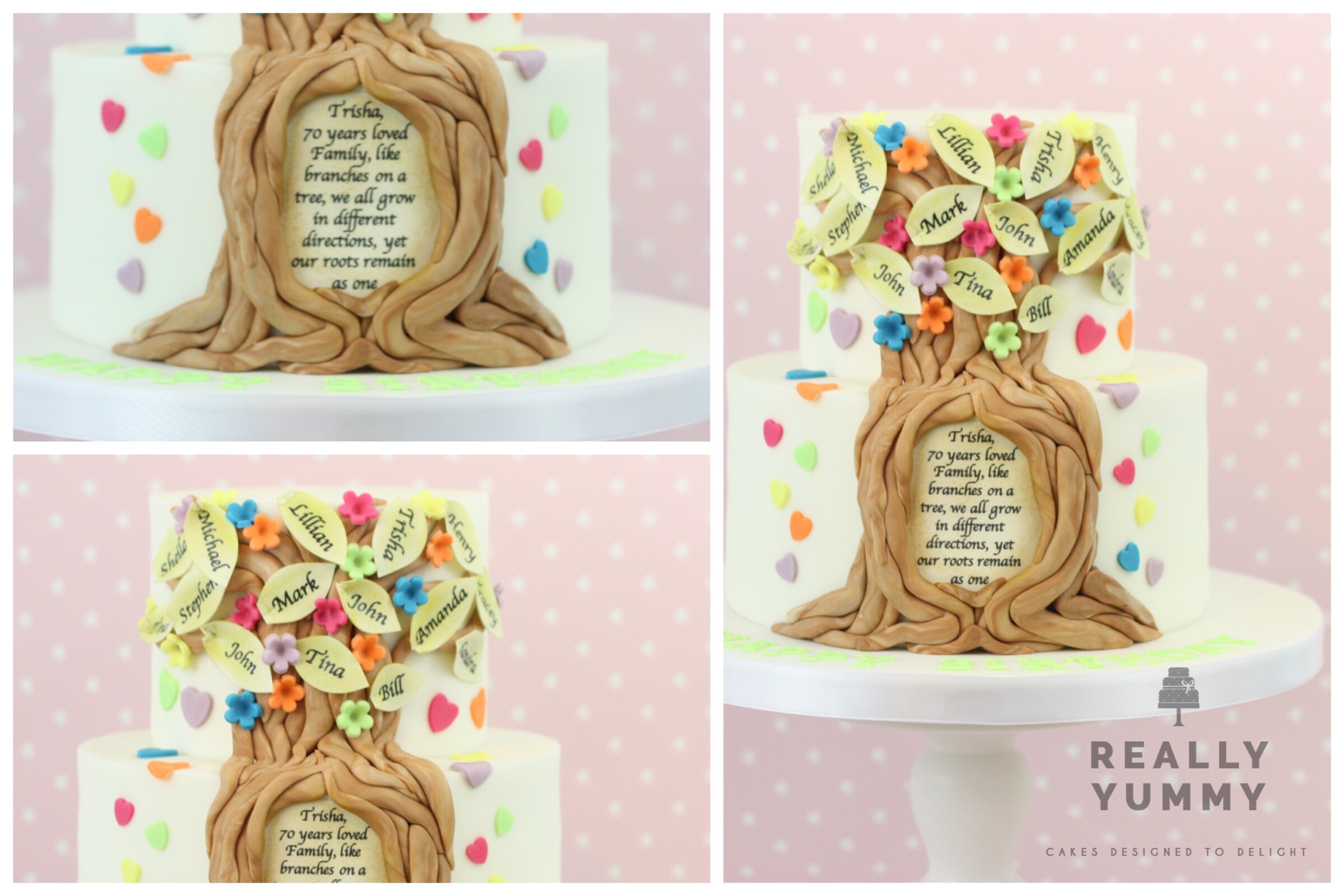 Our daughters had you make a special cake for my 70th Birthday and our 50th Wedding Anniversary. We just had to contact you to say thank you. What a wonderful work of art you created. One of your Waterfall designs used as a tree the leaves named with all our family.members. What an amazing idea. How beautiful it looked....too good to eat really. It tasted as good as it looked. We are able to keep the top half with the names and that will stay with us. A huge thank you. You will definitely be hearing from us again.
This will be fourth time we have used Liz's services, the first being a wonderful R2D2 for our son's 7th Birthday which apparently led to Really Yummy becoming "a thing". Most recently I requested Really Yummy's expertise in creating a Pink Floyd themed masterpiece for my Dad's 70th Birthday. We were not disappointed! Using the Dark Side of the Moon album cover as inspiration, Liz created an amazing cake that no one wanted to cut – we were glad we did though as it tasted fantastic! Thank you again for all of your hard work!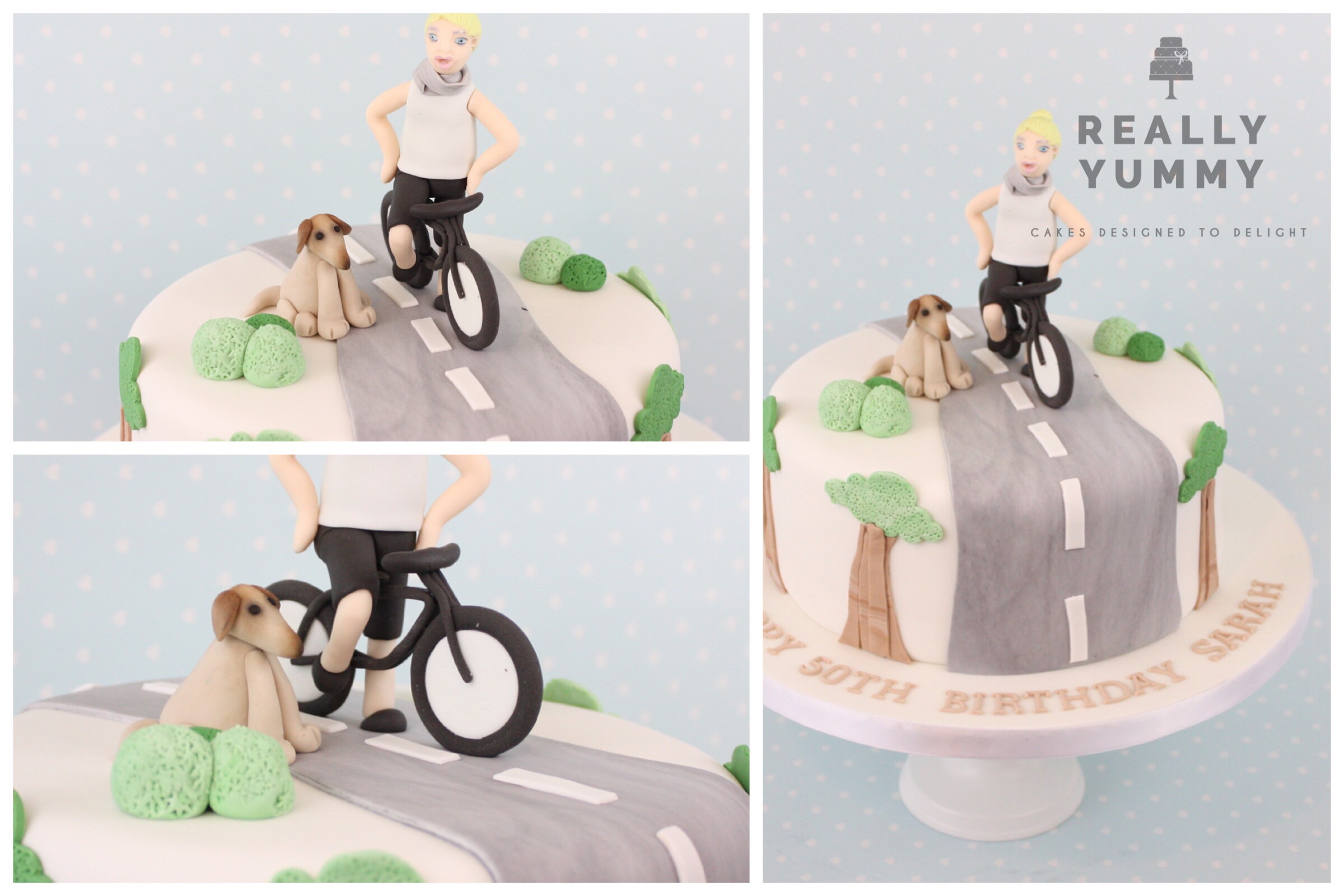 Really Yummy made the 50th Birthday cake for my best friend. I really wanted the cake to be perfect and one phone call to Really Yummy, and my nerves disappeared as I knew Liz would get it right. Really Yummy had some great ideas – which turned into a stunning and delicious cake. Thank you!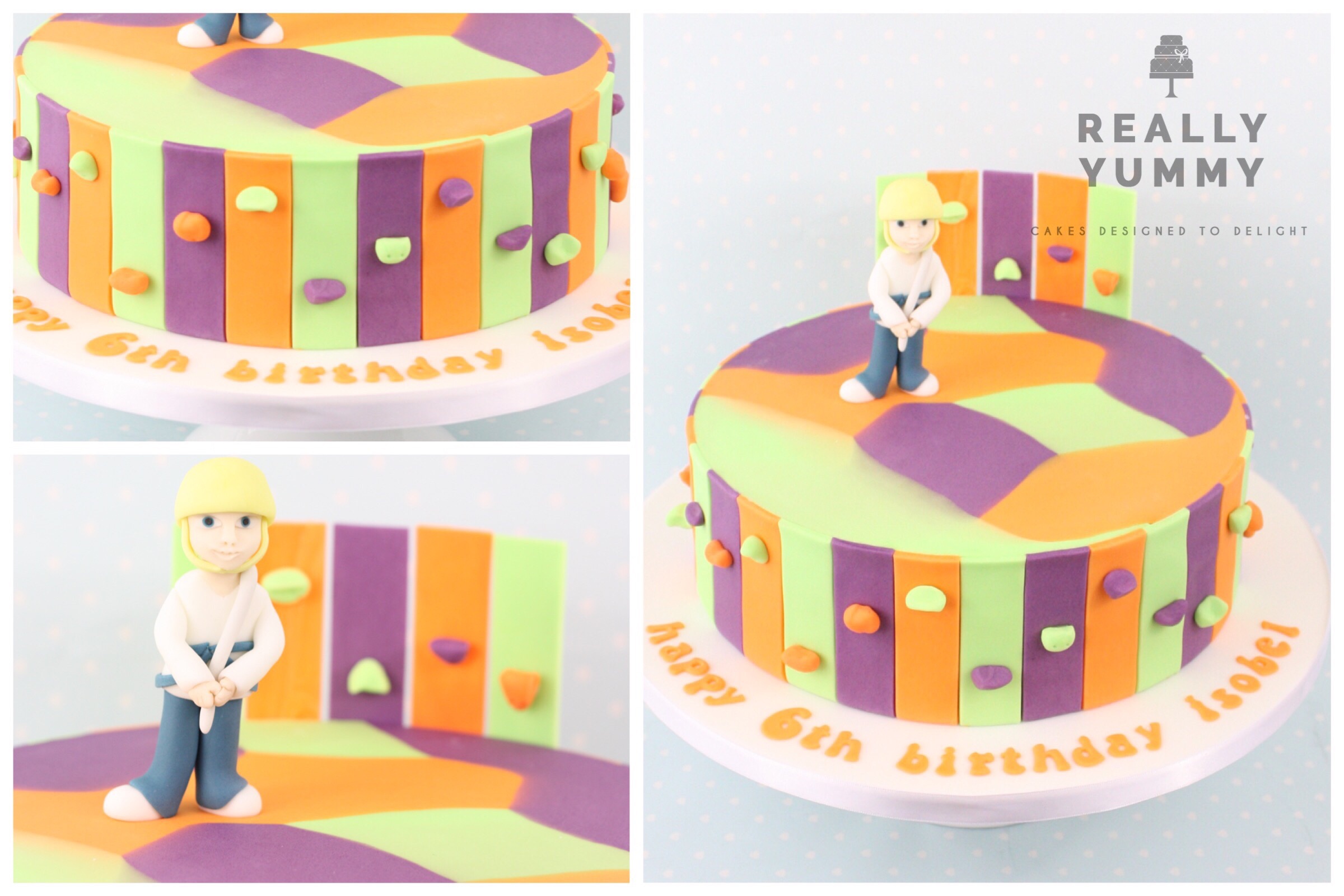 Another amazing creation by Really Yummy! Just when we thought Liz couldn't beat the design of Isobel's 5th birthday cake last year, this year was even better. With what we thought would be a difficult theme – rock climbing – Liz designed an amazing cake with a great colour theme. Feedback from parents was simply "WOW". Thank you for adding that "WOW" factor to our daughter's 6th birthday party.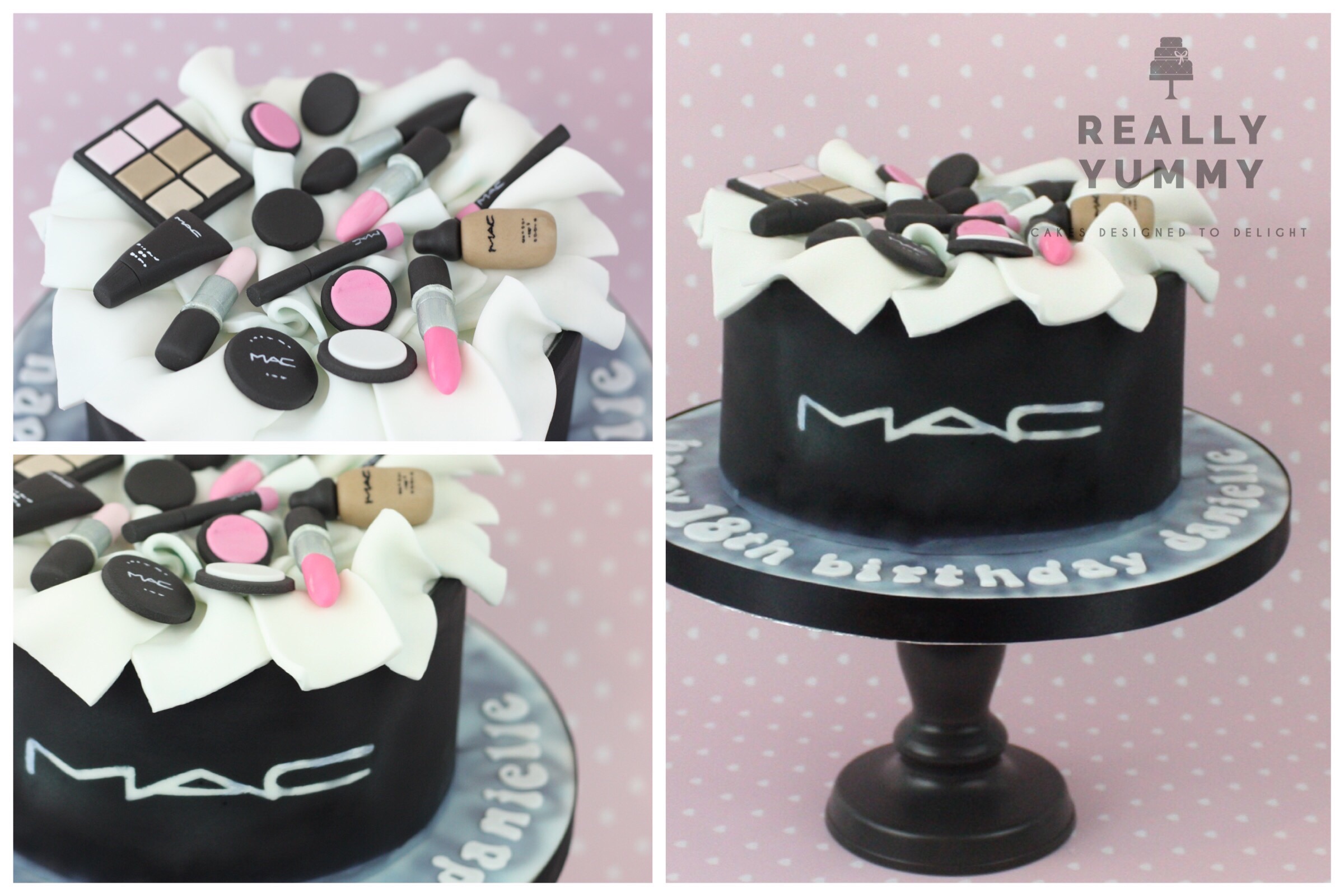 I asked Liz for a cake with a MAC make-up theme for my granddaughter's 18th birthday. The cake she made looked absolutely gorgeous and tasted great too. My granddaughter was really thrilled with the cake and sent photos to all her friends. I would definitely use Really Yummy cakes again.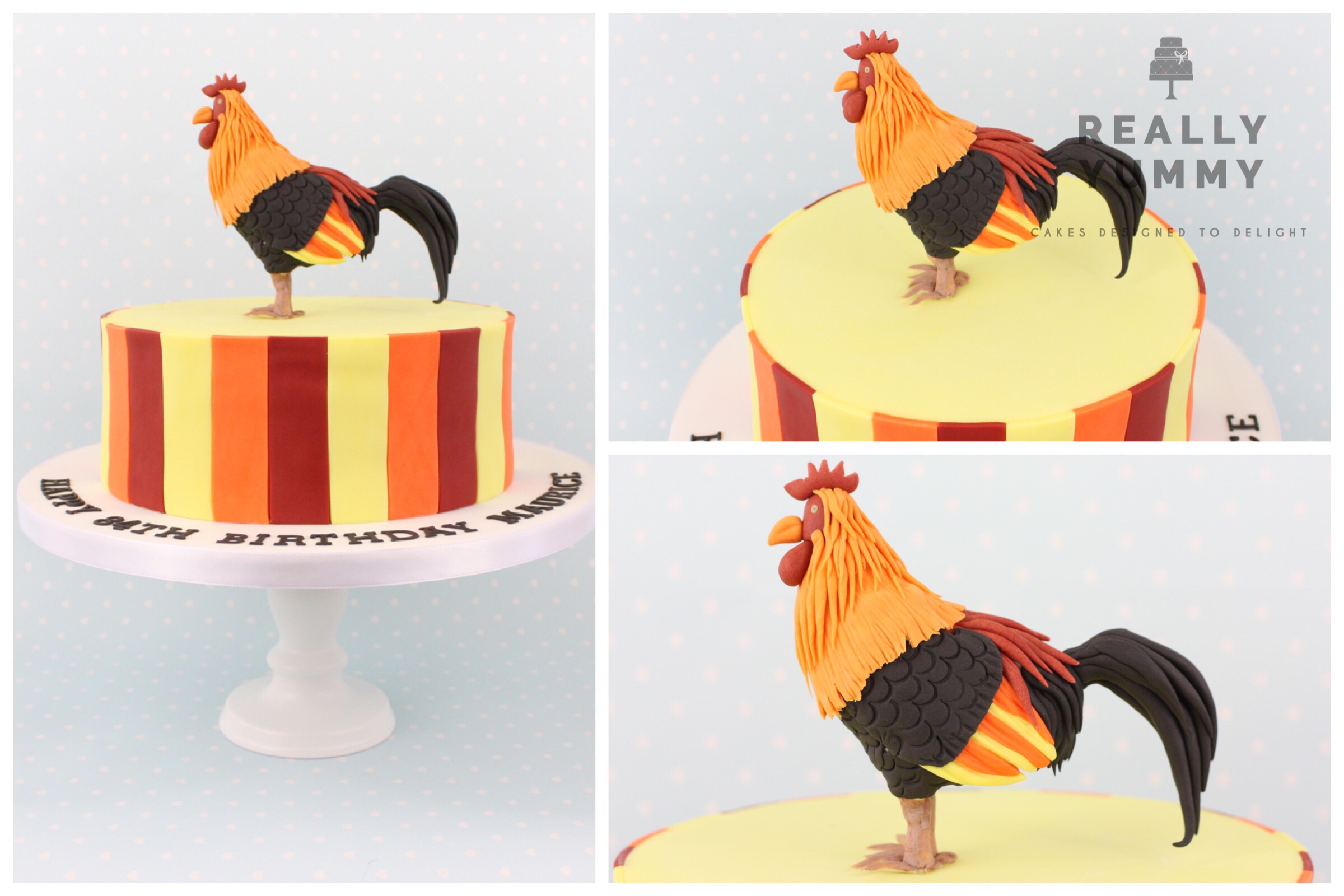 Having given Really Yummy a vague idea of a cockerel for my Dad (84) with poor eyesight, I was not prepared for the wonderful interpretation. A proud cockerel standing in 3D on top of a striped cake. My Dad was thrilled and refused to cut the cake for days so all could admire the creation. Thank you for making his day!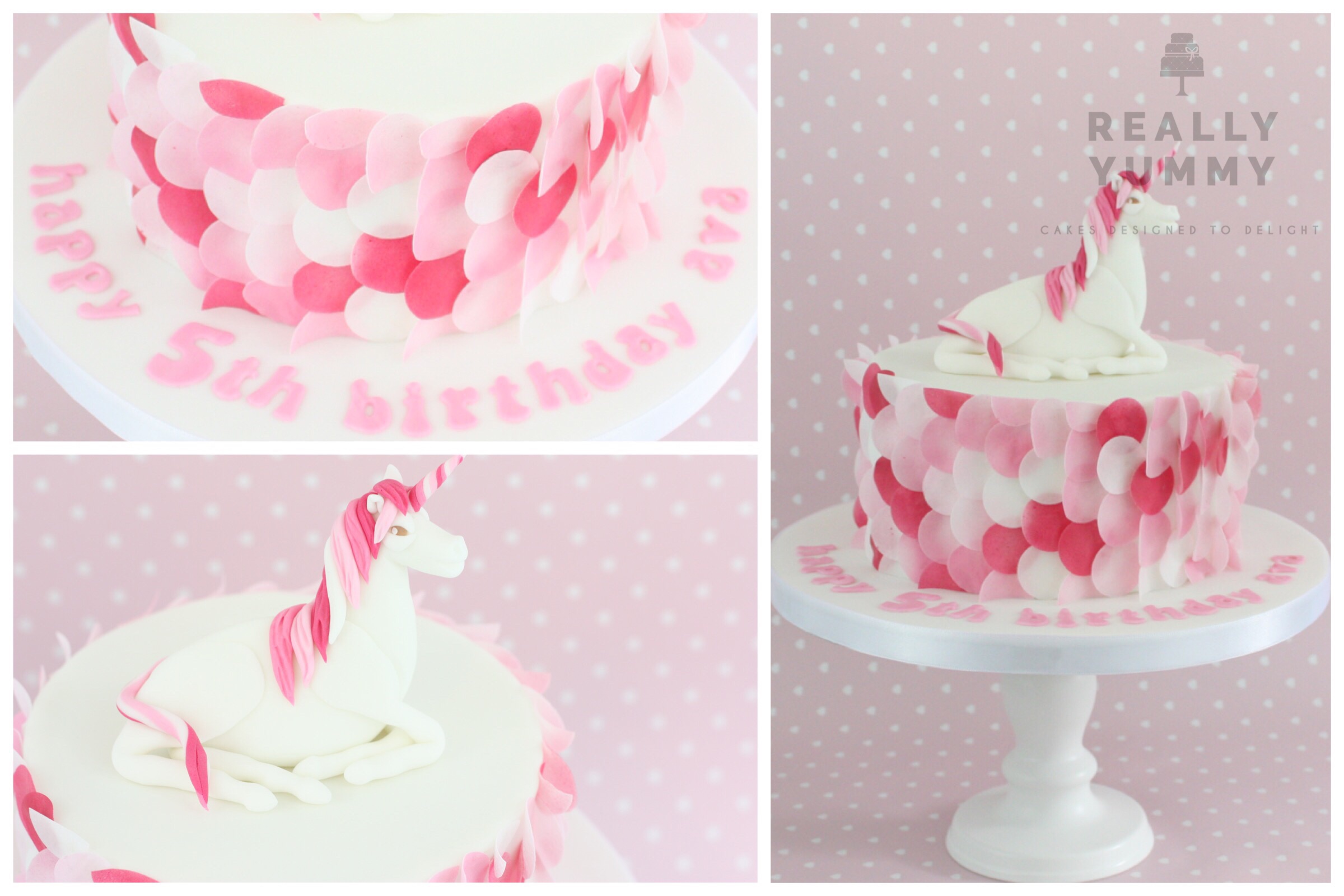 As always you delivered amazing cakes for our special occasion. My daughter has had the most wonderful cakes each year for her birthday. The Christening cake was just lovely and there was not a crumb left! Thank you Liz!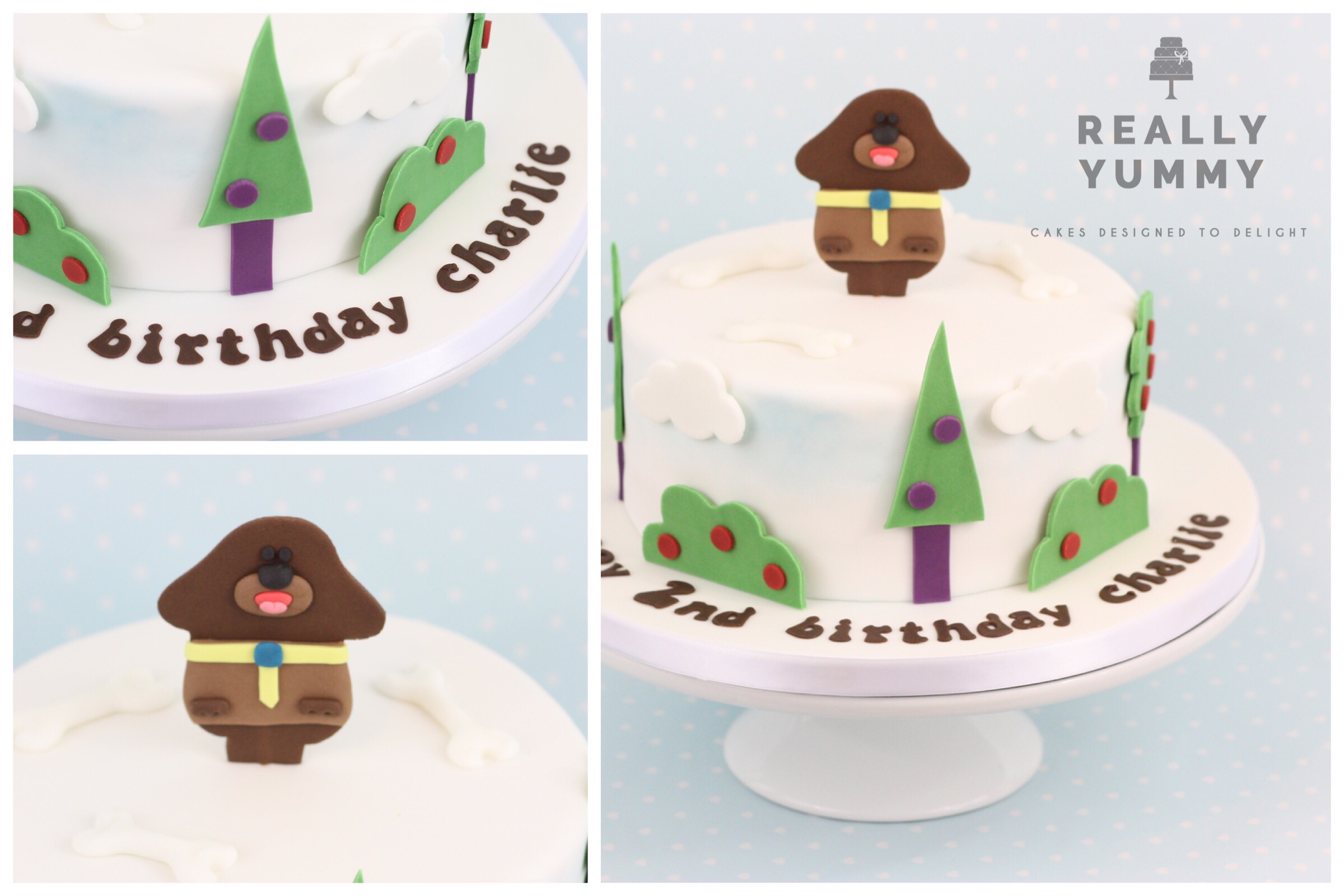 Liz is my 'go to' lady for our cakes for special occasions. So far we have had amazing Iggle Piggle and Hey Duggee themed children's cakes, a beautiful sunflower themed 85th birthday cake, a Christmas pillar box cake and given the Christmas cupcakes as gifts which have gone down an absolute storm with all recipients! The cakes always taste gorgeous, the decoration is amazing and the presentation is always beautiful. I can't praise Really Yummy highly enough!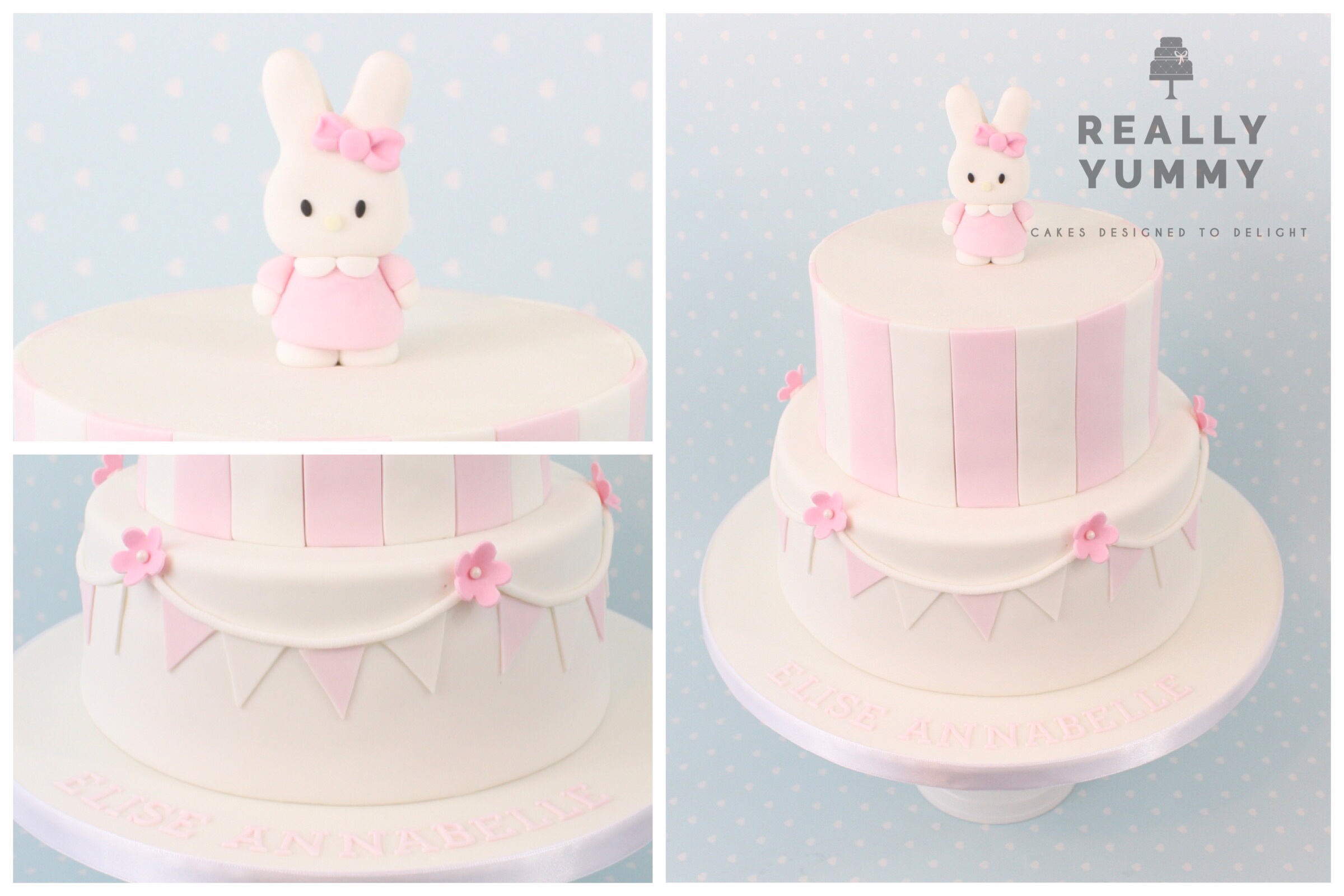 Thank you so much Liz for the most beautiful and delicious christening cake! Everyone said how lovely it was and it really made the day and will definitely be back in the future!
Superb cake…. well designed, nicely made and very tasty. Would definitely recommend!
I just wanted to get in touch to say thank you for the beautiful cake you made for my Mum's 60th! It was really stunning & original and made such a perfect centrepiece for the celebrations! Mum did a little speech to her of her guests explaining the lovely little details that you'd added (e.g. what the Mr Boni's ice cream shop front and the New Yorker hotel symbolised!) so it was a lovely talking point.
It was a stunning cake – thank you so much for all your hard work you did & for going to so much trouble on colour scheme and design, it was really appreciated!
Happy for you to use my feedback on your website if you'd like to. I saw the pic of the cake are on there – I feel proud to see it on there in and amongst the others!
Best wishes
Nikki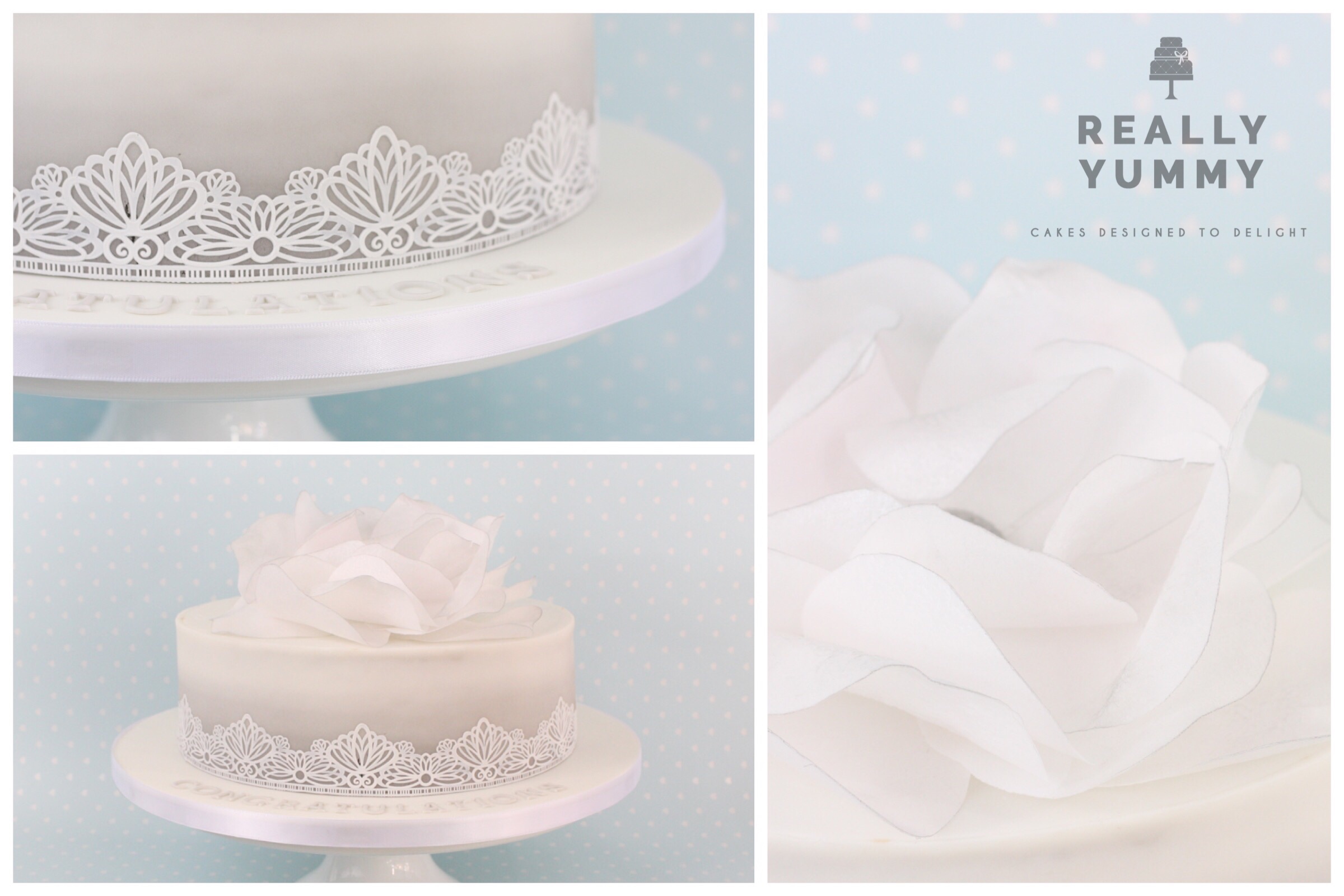 I contacted Liz regarding a cake I wanted made for my mum and her husbands wedding blessing. I described in short what they liked doing. I left the design up to her, as I always have. I wanted a 10inch round chocolate cake and the rest was up to her amazing creativity.
On the day of collection, I walked into her cake room, the box was on the table with the lid on, she took the lid off… Wow… A huge rice paper flower, with a silver edible brooch, adorned the top of a beautiful white fondant iced cake that blended into silver around the sides. A beautiful, edible lace trim surrounded the cake, on the base plate 'congratulations' was written. I hasten to add, I was speechless, wow, just beautiful.
I took the cake to my mum and her husbands house where I took off the lid and got the same reaction.
After the ceremony we had cake and champagne. The cake was sliced into with such ease to reveal the most delicious, moist and perfect chocolate cake. An absolutely perfect way to end the most perfect day. Thank you again Liz for your amazing cakes. x
Just wanted to say thank you for the cake you made in the Wild West Theme for my Dad's 80th Birthday, everyone thought it was amazing and it tasted delicious.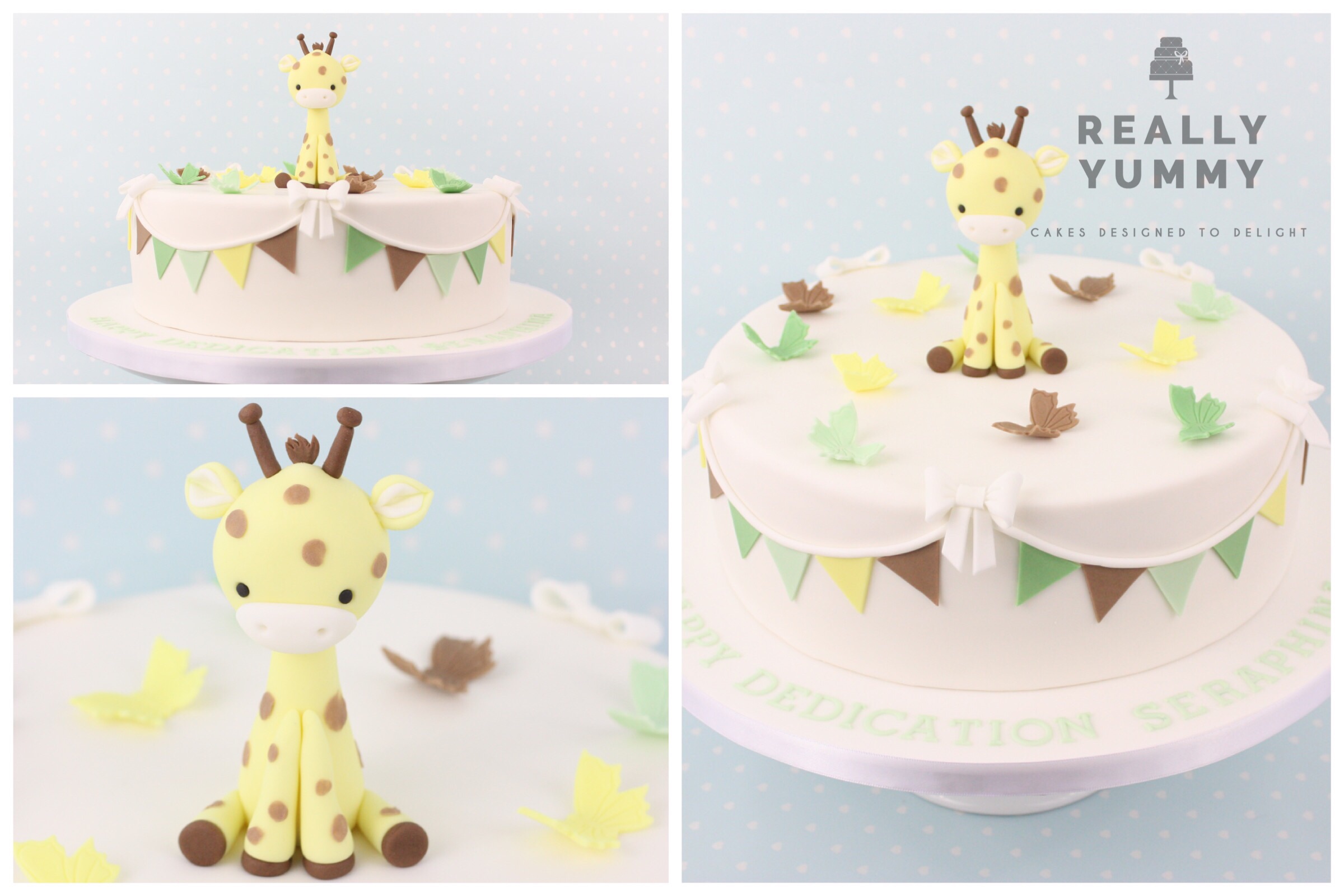 Oh my, your cake was wonderful!!! Ended up having a few leftovers so been enjoying them this week. Thank you so much!!! Xx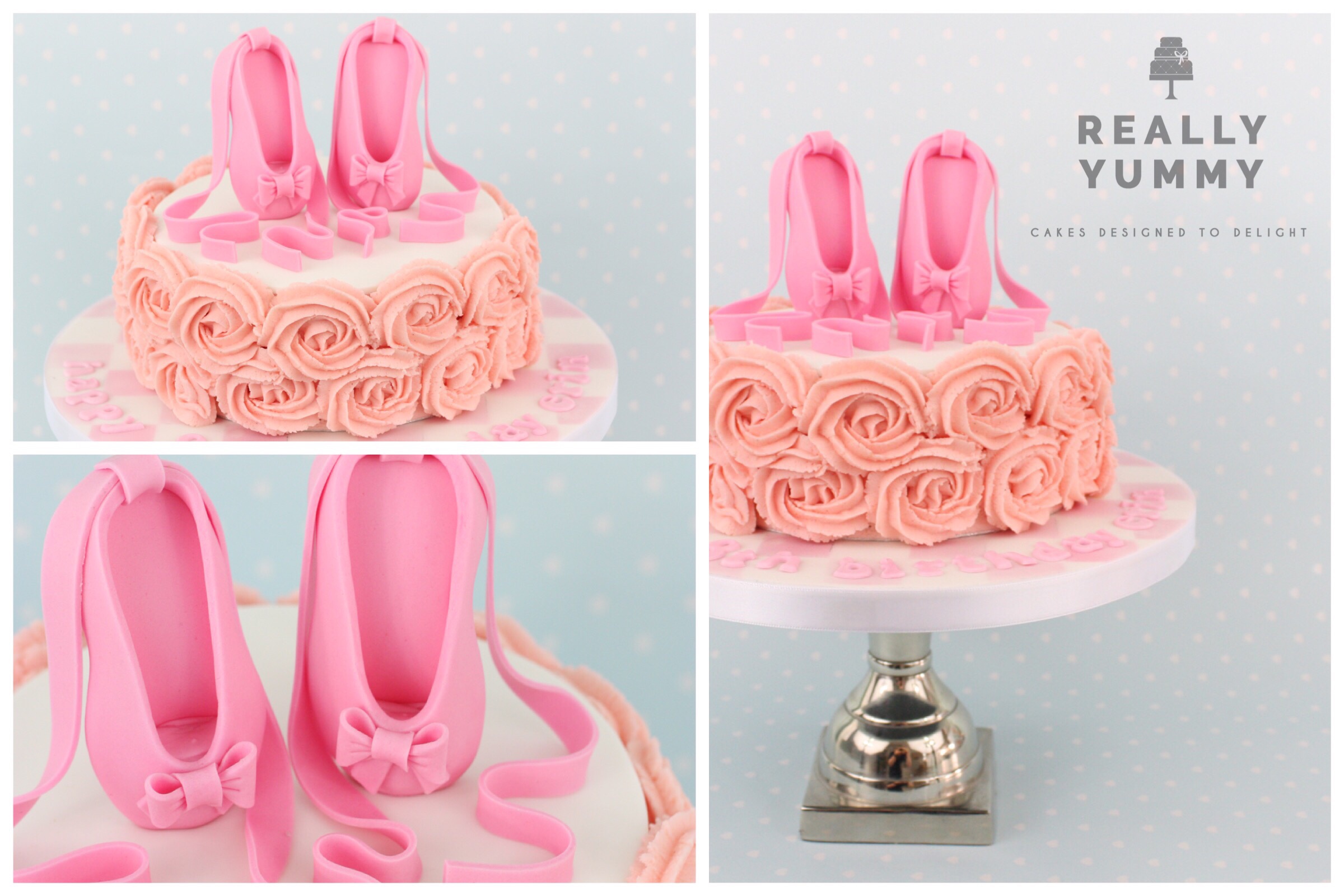 My daughter loved her ballet themed cake. I needed a dairy and egg free cake for her birthday and was unable to create it myself this year. As shop bought isn't an option, we were really impressed with the "Really Yummy cake" Liz created and received great service too. Thanks.
Many thanks Liz for another fantastic cake! I love it that I can just tell you the occasion and the recipient's hobbies and then collect the perfect cake. The music theme was a big hit and my Mum absolutely loved the ukulele – so clever!
Just a quick e-mail to say thank you for Isobel's amazing birthday cake – you were spot on with the design. It was exactly what I had in my mind. Everyone who attended the party was blown away with the creation – so I have passed on your details to various parents. Plus it was absolutely delicious – it truly was yummy Thank you once again for your amazing creation.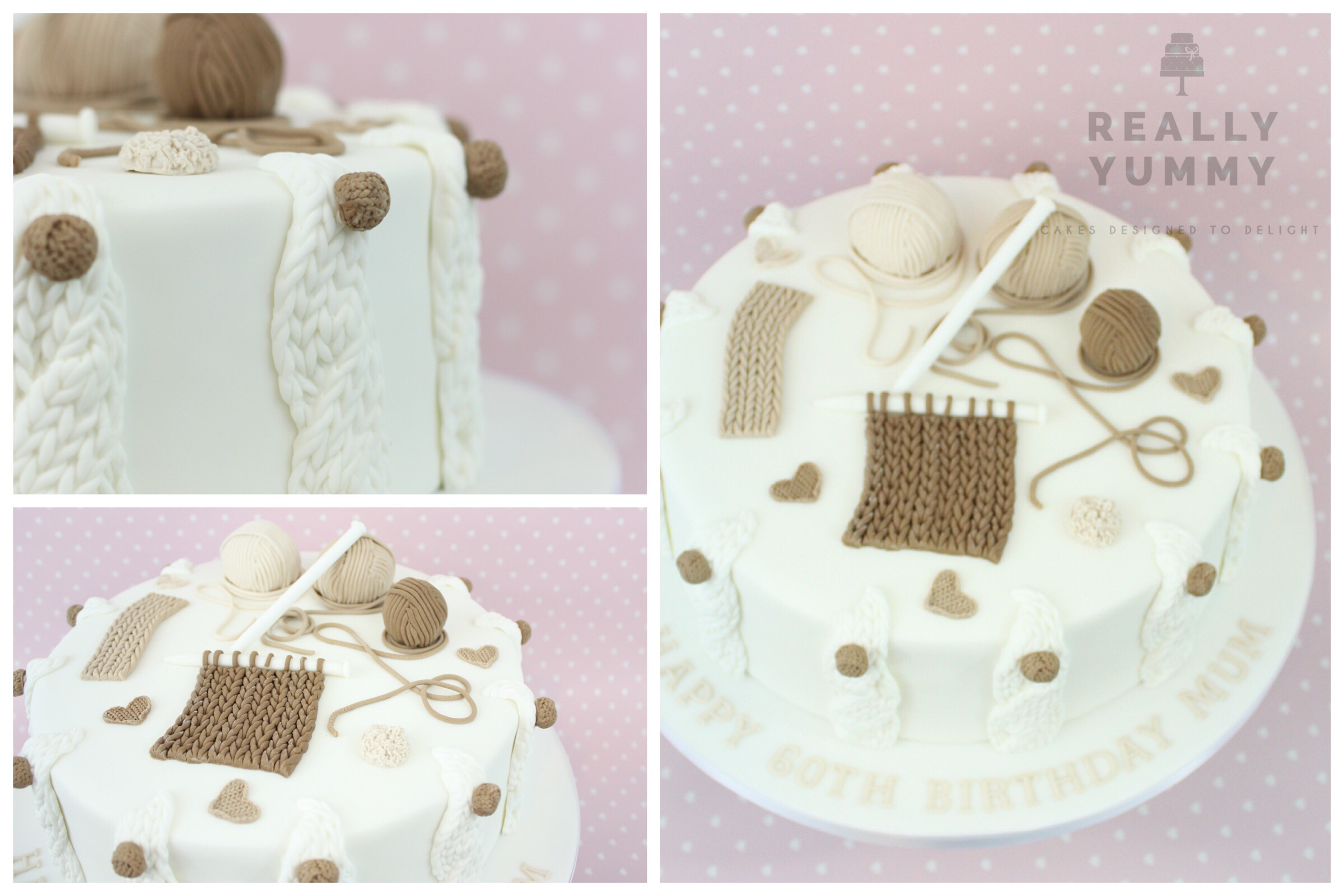 Absolutely amazing cake! The decoration was incredible and was everything I wanted but better! The cake itself tasted lovely and was still as tasty after a week of making. Will definitely recommend to people I know and will use again for special occasions.x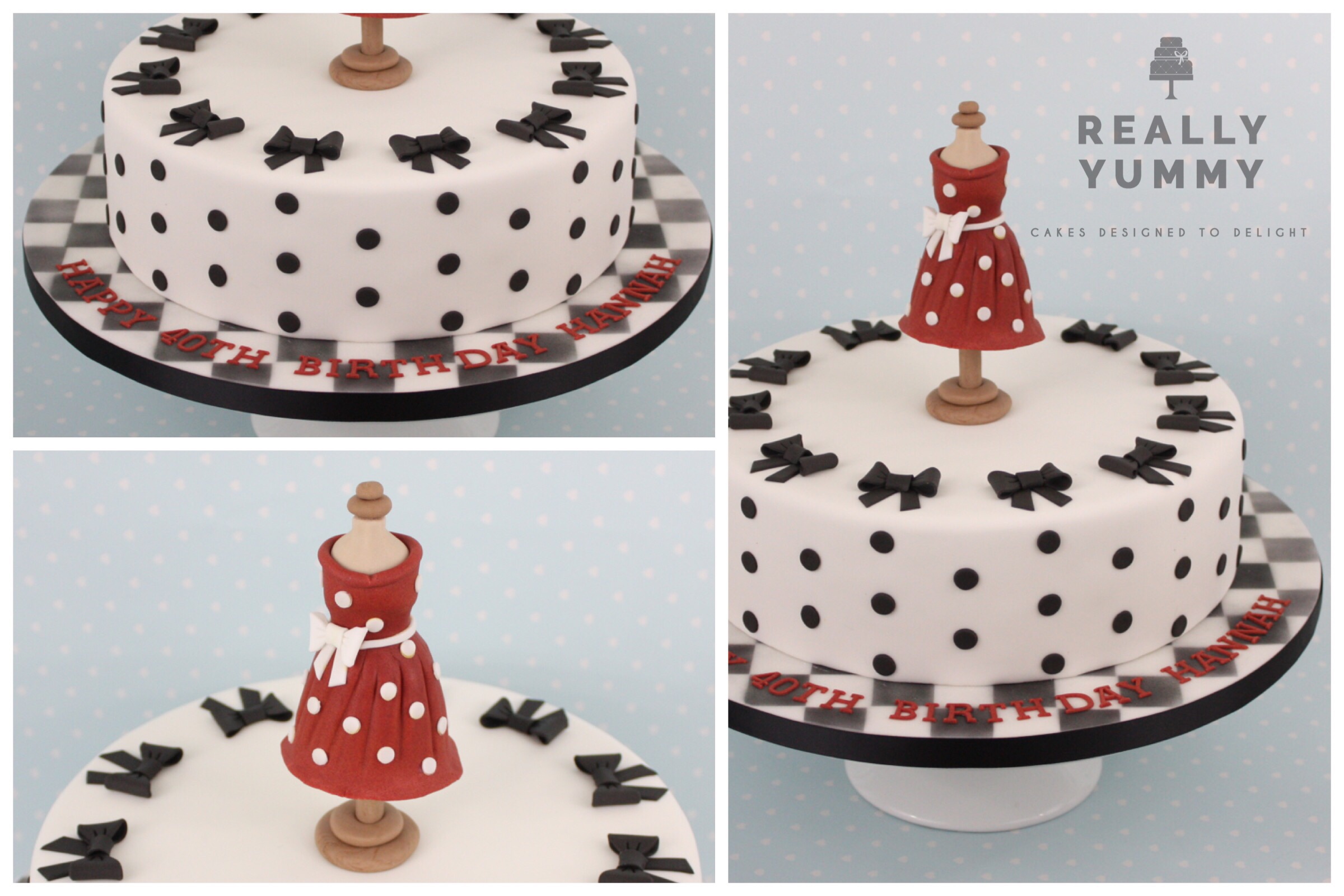 My cake was amazing, not only did it look fantastic it tasted great too. It was just what I wanted for my 40th birthday, something sophisticated but fun at the same time.
The service and product I received were top notch. It was efficient and to the highest standards. I would definitely use Really Yummy again.
This was our second cake from Really Yummy and we had to go large to feed a hoard of hungry guests. We had a tier of chocolate and a tier of vanilla - oh my, what delicious sponge. Couldn't decide which I liked most. I had given Liz just one theme - (skiing) and left the rest to her so I was really excited to see what she came up with. Wow - a ski chalet in the mountains with my son skiing downhill. Truly fantastic. Thank you so much.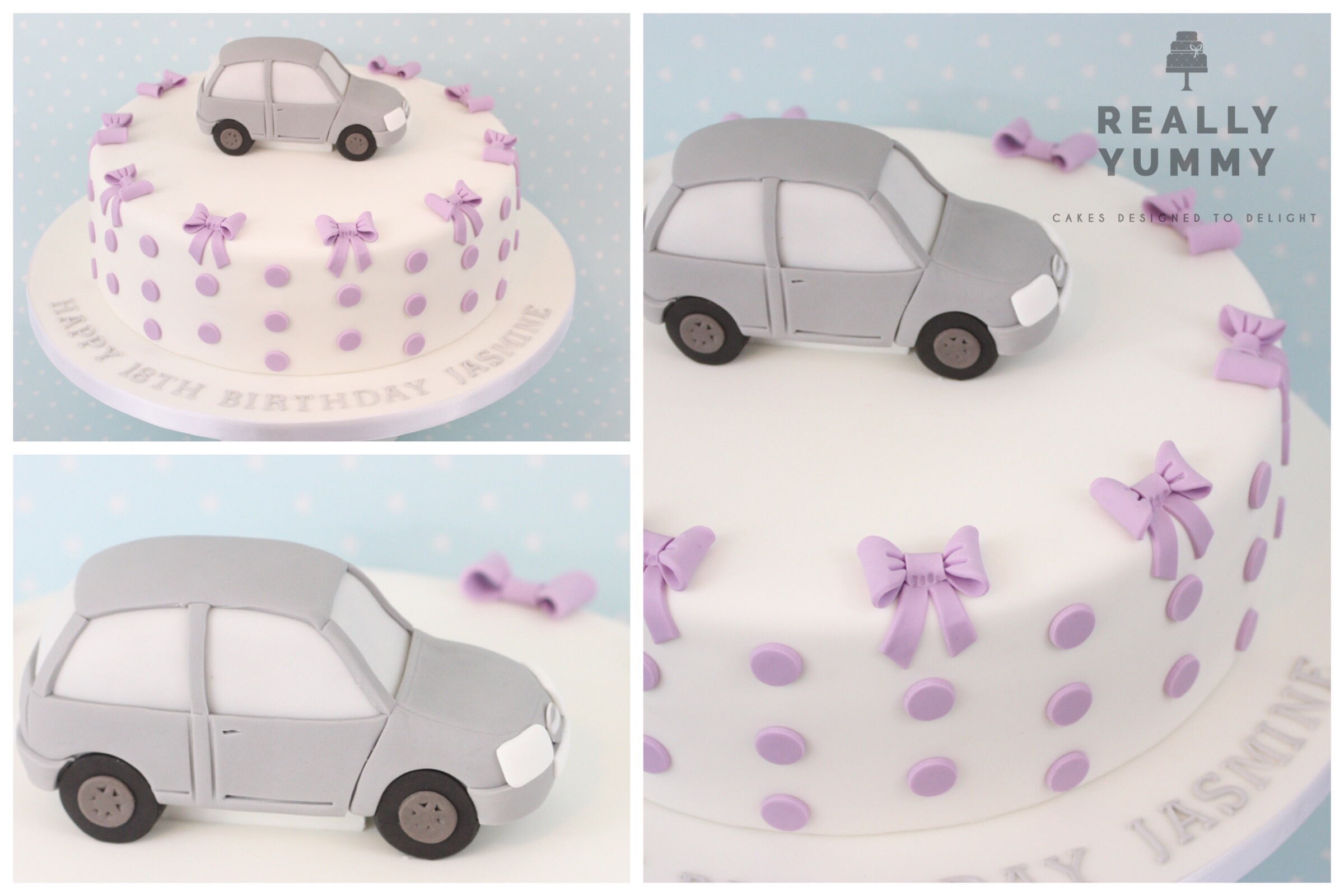 Beautiful cake provided at rather short notice. Friendly service and thoroughly professional in every way. My niece loved it and so did all the family. I would definitely recommend.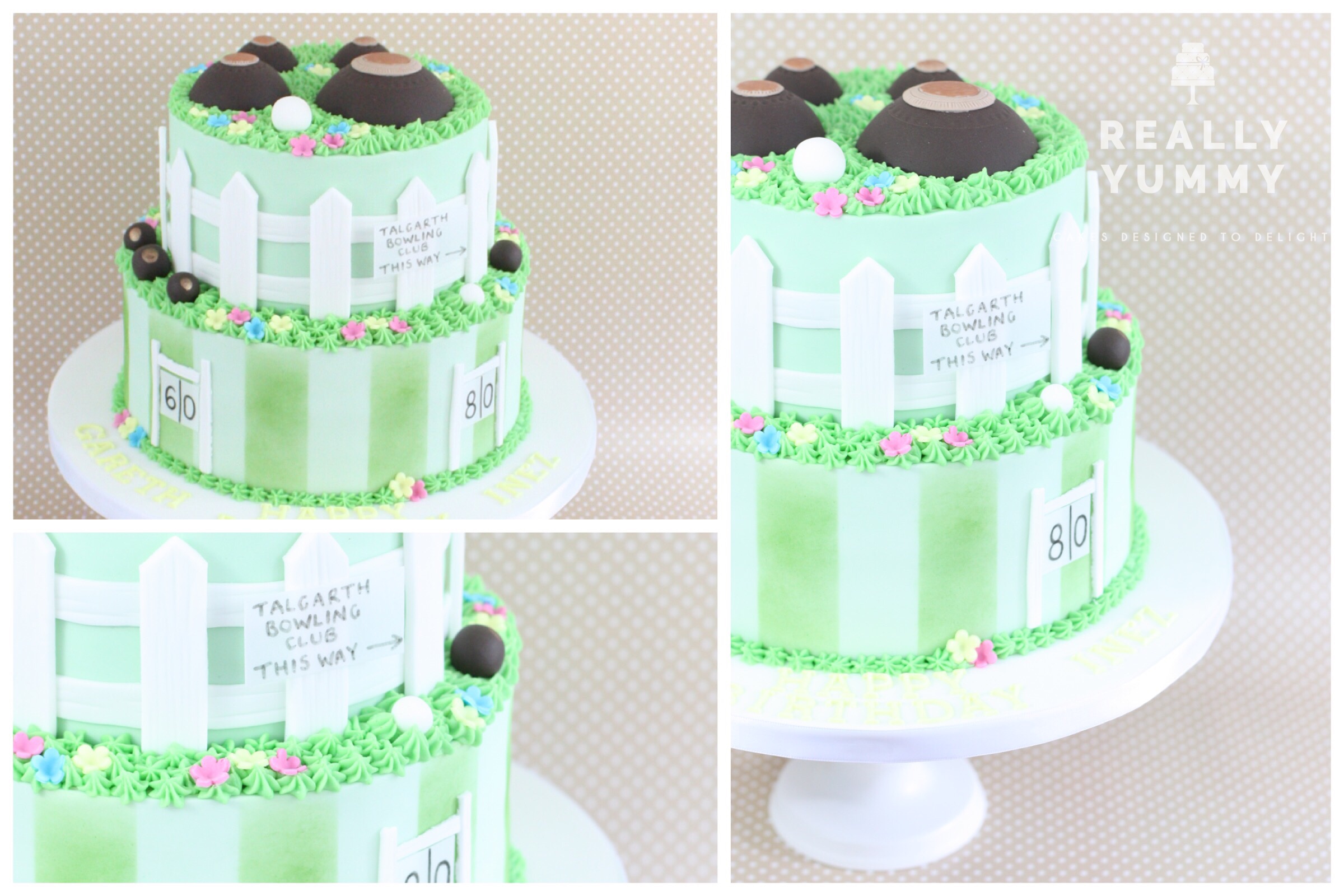 The birthday cake was the star of the show . The decoration was truly impressive and the vanilla sponge was delicious!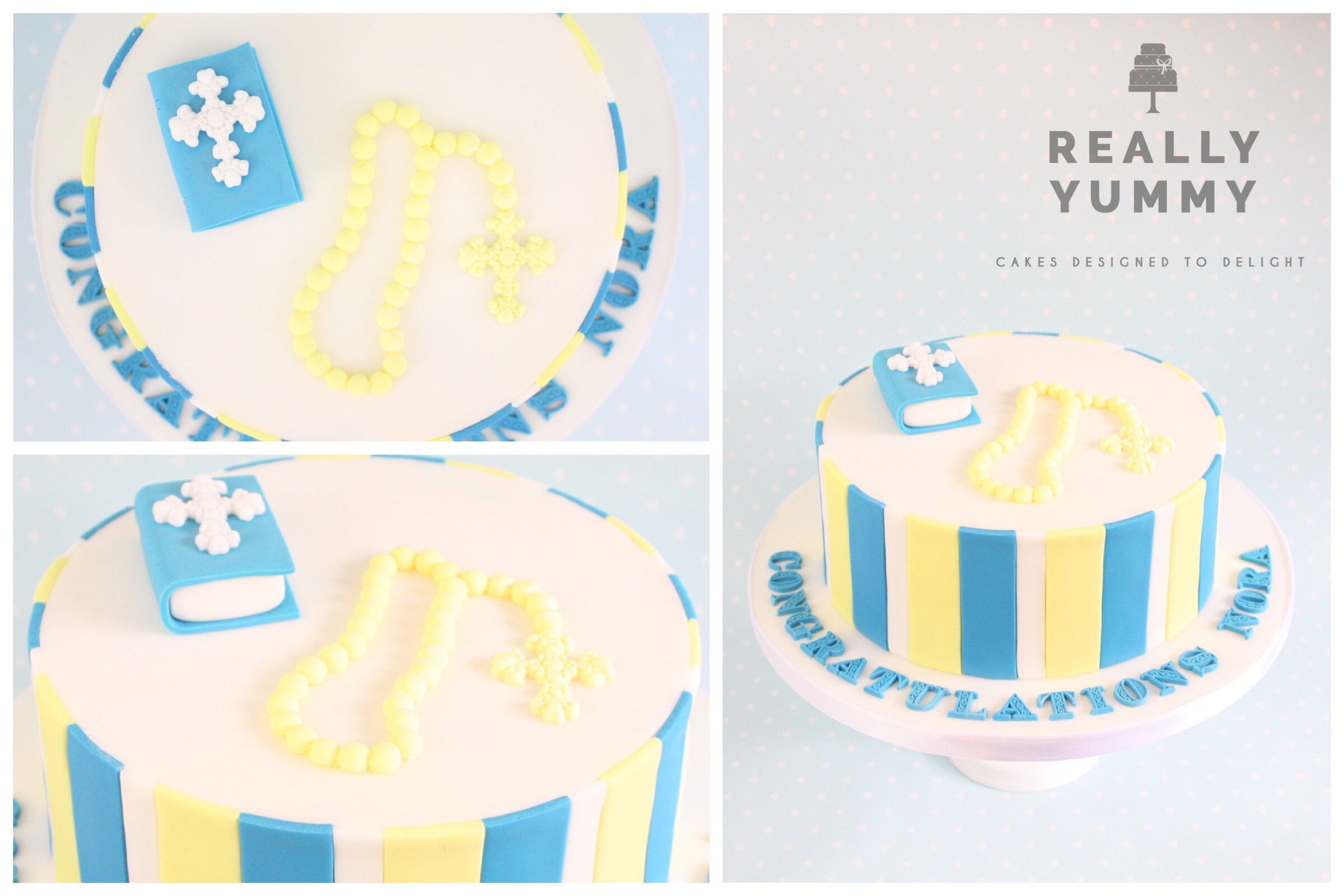 We ordered a Communion cake from Liz. It was perfect! We had a slightly unusual request for the cake and Liz came up with a brilliant idea that worked well on the day. We'll definitely order a Really Yummy cake again.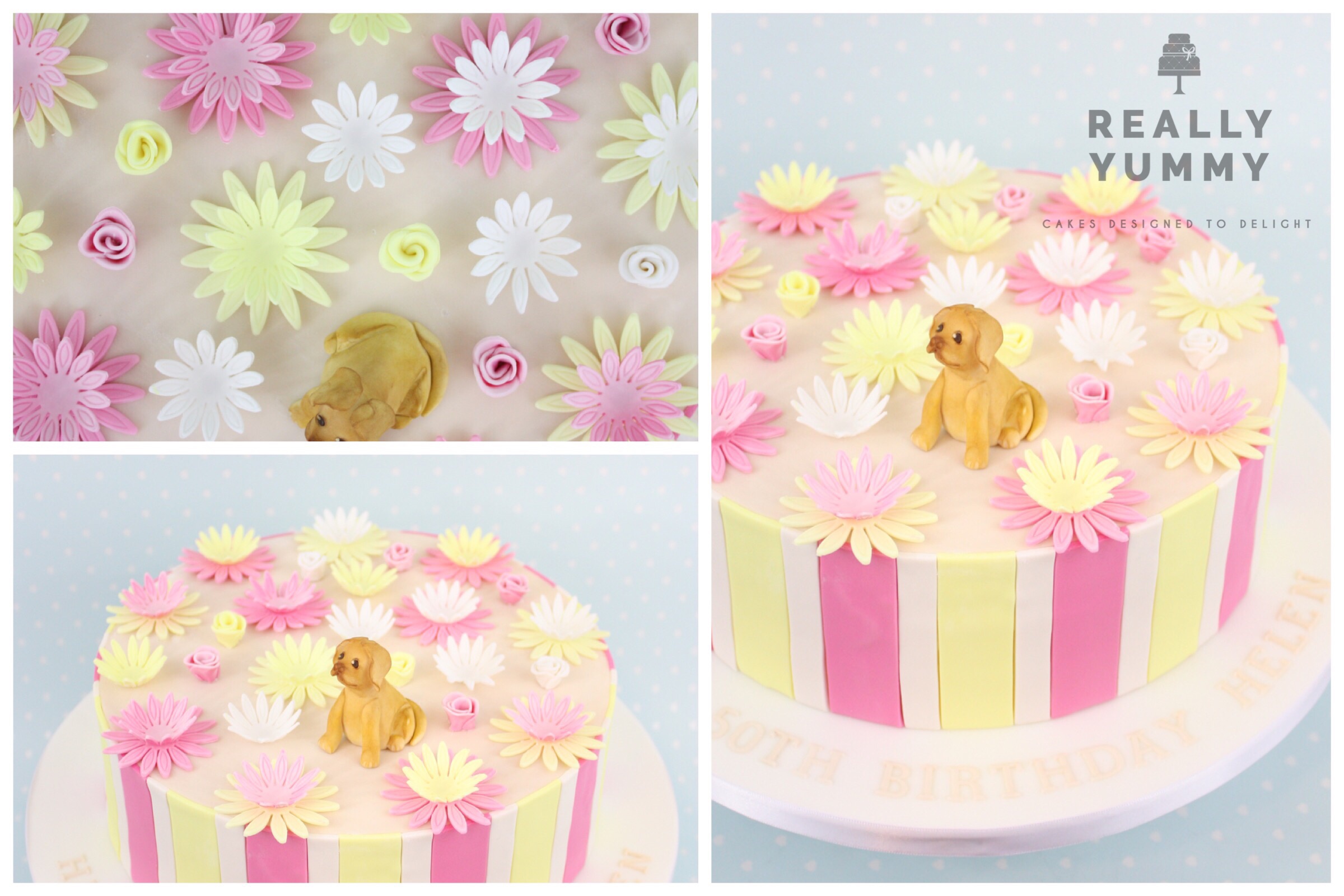 Lovely cake - looked good and tasted wonderful.
Had to change plans last minute and was very grateful that Liz was so flexible, would highly recommend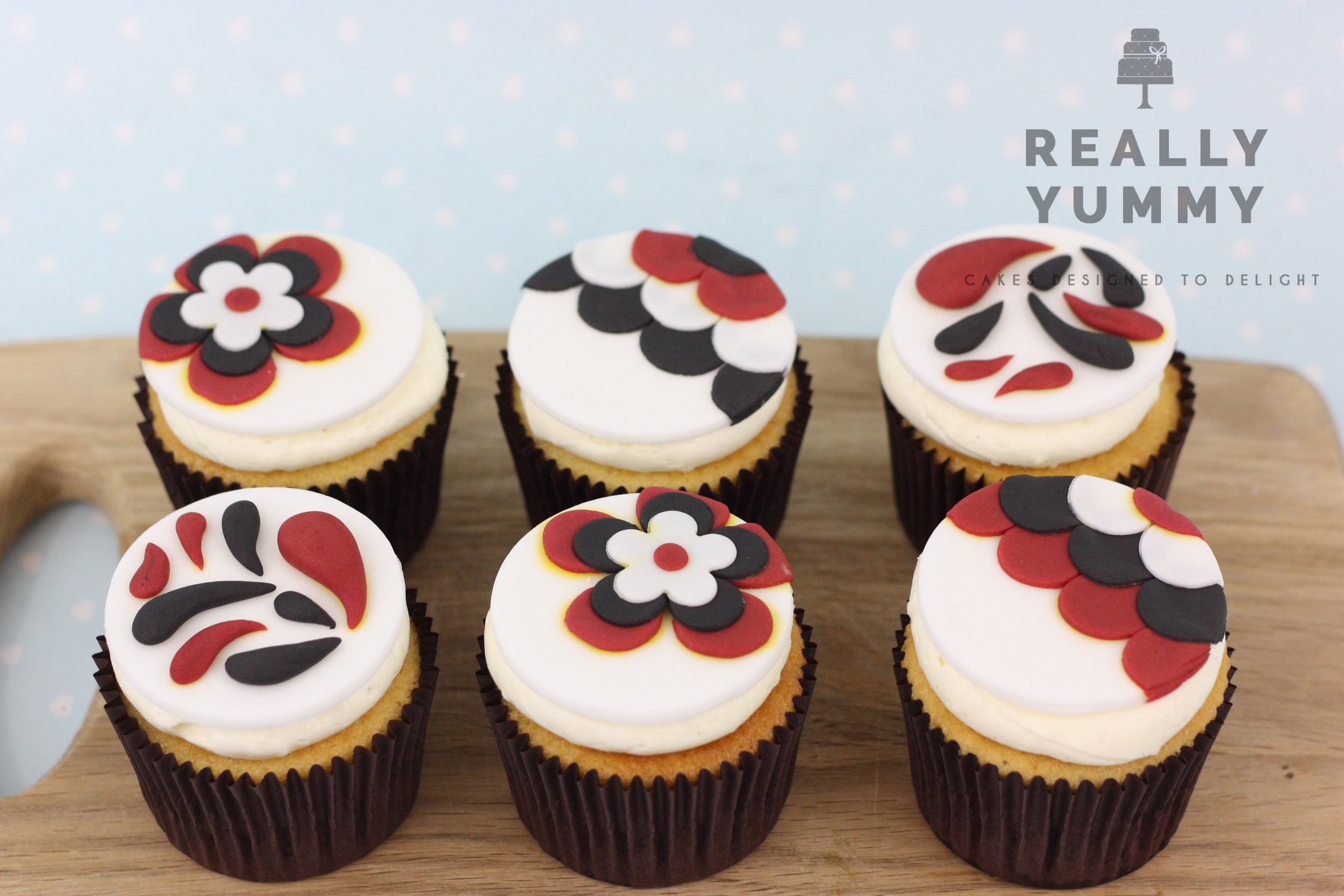 I've been ordering from Liz for a while now and her cakes never fail to please, the service is first class , I would definitely recommend.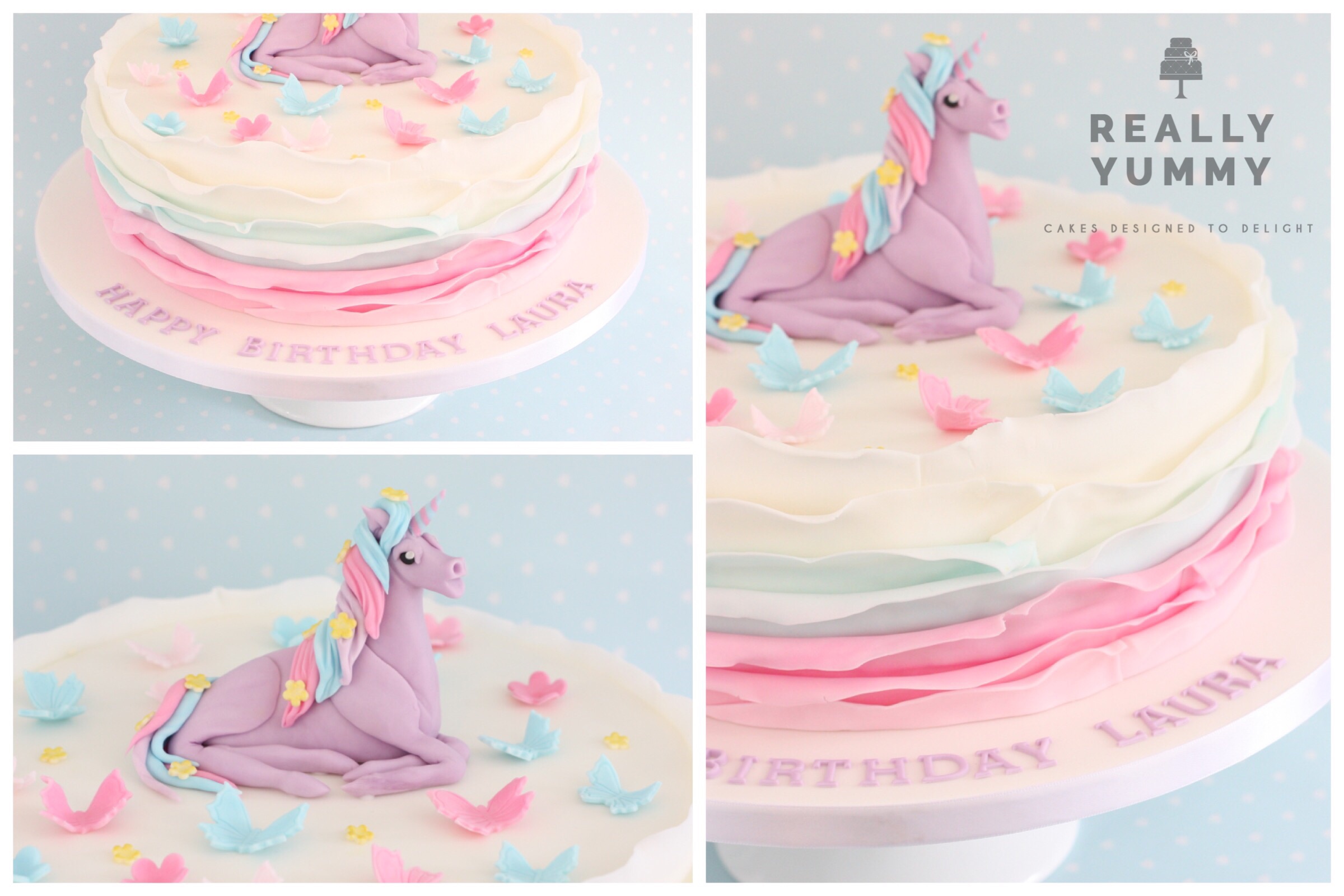 My daughter loved her cake, and a couple of months down the line she is still talking about it! It was even better than we had hoped for, and it was delicious too!
Liz was so wonderful to work with. At our first meeting our ideas were very vague and we weren't really sure what we wanted. She immediately made us feel at ease and extremely welcome with her warm personality. Liz's attention to detail was very impressive and this was definitely reflected in the cake! On the day, Liz delivered and set up the cake for us which meant we didn't have to worry about a thing. It was completely hassle free. We couldn't recommend Liz highly enough - she made us the most PERFECT wedding cake. Thank you!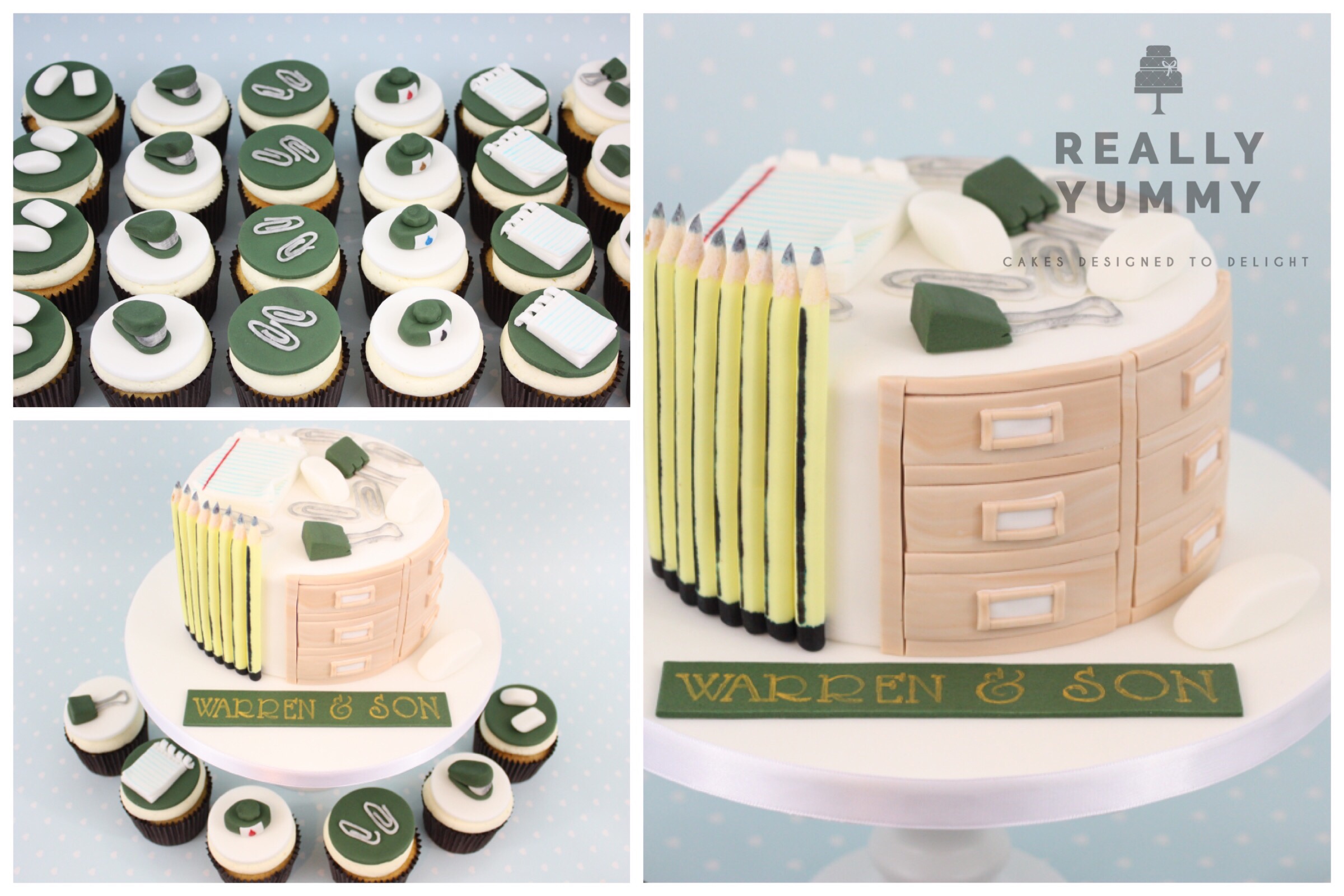 Liz provided Warren & Son with some wonderful cupcakes and a really brilliant cake! The theme was stationery and as always Liz did not disappoint us! We were hosting a Macmillan Coffee Morning and the cakes were absolutely perfect! I have been using Liz and Really Yummy for nearly 4 years and would recommend her to anyone looking for Really Yummy , cleverly designed cakes! Thank you Liz!